We've got one more week before I systematically begin to bombard you with Pints for Paws 2013 info...so let's make it count while the time lasts, eh? :)
It's freakin' time to pass some judgment! Beer judgment, that is. By the time you read this, Mrs. GrassLands and I will be engaging in the last leg of travel for the crazy month that is May 2013. We're heading to Gainesville, FL for the Hogtown Brew-Off homebrew competition. Much like my experience with the CASK ladies & gents in their annual First Coast Cup in Jacksonville, this should be a fun time. As judges, we've even been offered the opportunity for a closed-session beer dinner put on by SwampHead Brewery! Stoked! We'll be passing judgment on homebrewers' entries into the first 23 categories of the BJCP style guidelines. That means I'll be drinking beer from 9 am till 3 pm tomorrow. Sound fun?
With that said, I figured it'd be helpful to give you an idea of a day in the life of a certified beer judge at a homebrew competition (which typically starts around 9 am)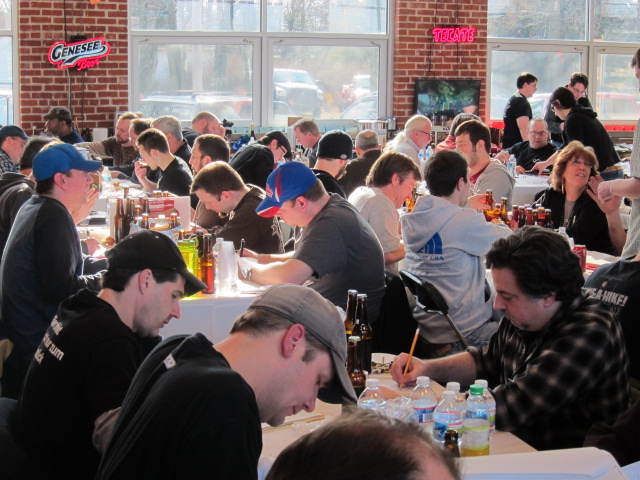 6-7 am: Wake up, eat breakfast and clean up. You want to leave yourself some time after you shower/brush your teeth/etc. Additional aromas and mouth flavors (even if they're nice like cologne/perfume/breath fresheners) can negatively impact your ability to provide good feedback on a beer. Weird, but it's something to consider.
8 am: Get registered, connect with fellow judges, & get yourself set up for your first tasting.
9 am: Taste flights - No two homebrew competitions are the same...as they're typically determined by the number of entries per category. As I mentioned before, there are 23 categories available to judge, plus additional cider & mead categories (which I don't judge). Say I get set up to judge the pale ale category - depending on the number of entries, there will typically be 5-6 beers in the flight.
9 am: Judgment. I'm officially listed as a "Recognized" BJCP judge. Because that's more of a novice/new judge assignment, I'll get paired with someone who's got a little more experience judging (either a national or master level). This is helpful in two respects: the novice/new beer judge gets somewhat mentored by the experienced judge and the homebrewer gets quality feedback. If you had two relatively inexperienced judges, you run the risk of getting lower quality feedback to the homebrewer - who is really looking to get pure, objective perspectives on their beer(s).
9 am: Judging each entry takes anywhere between 10-15 minutes. You judge on a 50 point scoresheet composed of five categories: Aroma (12 points), Appearance (3 points) , Flavor (20 points), Mouthfeel (5 points)  and Overall Impression (10 points). The key is to provide feedback that is appropriate to the points totaled. Say if you were to judge an IPA as a 22/50, you'd want to have feedback that reinforced that score. The last thing you want to do is confuse the homebrewer with mixed messages. Try to remain objective in a subjective judging process - judge each beer on its ability to hit all the correct points of the style category under which it was submitted.
9 am: Once you arrive at your score, it's time to discuss with your fellow judge (and possibly a steward that's assisting) the score and your justification for arriving at said score. S/he will either agree or disagree and you go from there. If you're both within +/- 3 points, it's good to go. If you're above that range, there has to be some compromise. This is typically where the experienced judge should be (but not necessarily always) listened to. Ideally, you meet in the middle, but often times, the inexperienced judge might be too far on one end of the spectrum (i.e. assigning too high a score or too low) and needs to adjust accordingly.
9 am: After the flight judgment is finished, you determine which beer(s) you both feel should get moved on to the next round. Often times that means tasting the first beers again to be sure you make the right choice. The second round beers will compete with one another for a 1st, 2nd and 3rd place finish. Each 1st place finish will compete with each other for the Best in Show. Cool? Typically, the highest ranking judges present judge the 2nd and Best in Show rounds.
10 am - 3 pm: Repeat the above process...oh and have lunch somewhere in between since you'll be consuming a bunch of beer :D Then the awards ceremony happens and you're done for the day!
Now what do you think? Want to be a beer judge? Does it sound all it's cracked up to be? You miiiiight be surprised!
With that, we'll leave you to it for the long weekend. Enjoy the Memorial Day holiday, my dear readers, because you most certainly deserve it! (And don't forget why we've got Monday off). Till next time!