So I teased this whole "3-phase" plan for GrassLands earlier this week. What's that mean? Well, we've been doing a bunch of thinking in the process of finalizing our business plan (a freakin' journey in itself) and all the while we've been brainstorming different approaches...or at the very least approaches that would be innovative in combination with our mission and vision.
We've looked to the slightly larger, regionally-representative breweries in the southeast US (i.e. Cigar City, Sweetwater, etc.) and while it'd be ideal to hit their respective levels sooner than later, it's definitely not realistic and isn't exactly our end goal. I've said before that we want GrassLands to simultaneously embrace and be embraced by the Tallahassee (and eventually, the Florida) community. We plan on doing this through a number of different means:
Beer (obviously);
Events;
Fundraisers;
A welcoming, community atmosphere both in the brewery and within the taproom; and
Generally giving back to the Tallahassee community at large.
Sounds kinda like a nonprofit, right? (insert poor brewer joke here). GrassLands will not be a nonprofit when it launches, but with healthy growth over time, there is definitely the desire to form a grantmaking foundation on the side to even further fulfill our mission. Wouldn't that be awesome? But I digest...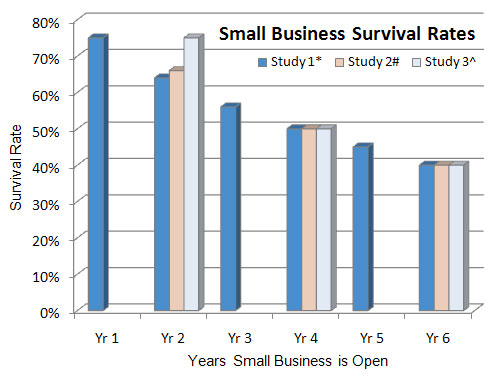 If you Google the question: "Why do Small Businesses Fail?" - you'll get a slew of different sites that all essentially say the same few things - lack of capital, misunderstanding the market, owners not cut out to run a business, bad location, etc., etc., etc. There's a recurring theme, however, that has caught my eye: The business grows too quickly (unexpected growth). I suppose of all the problems a small business could possibly encounter, this particular one might be the most welcome - but it shows the possibility of unhealthy growth.
I'm getting to the 3-Phase plan, I promise. :)
I've heard (horror) stories about start-up breweries not anticipating such a demand for their beer. This problem affects a brewery's working capital, brewing/bottling/kegging capacity, and capability of fully servicing each & every account it holds; opening the door for several unfortunate things to potentially happen:
The brewery's reputation suffers in the most important market: its own backyard;
The brewery is forced to cut back on its taproom service (I can't imagine a worse thought);
The brewery is forced to obtain more capital to address increasing demand(s) - as we're just now entering the capital-building part of our planning, this is much easier said than done;
Brewery operations get delayed due to waiting on ingredients/kegs/etc. to arrive; arriving at the ultimate problem...
Future business is jeopardized.
The whole point of our envisioned 3-Phase plan is to brew toward our own means and take care of our home community and neighbors first. Would we love to get into larger markets outside of Tallahassee right away (i.e. Orlando, Jacksonville, Atlanta)? Absolutely. But let's be real here. Even if there were demand for GrassLands in larger markets, our plan addresses our ability to meet those demands over time through healthy and organic growth.
So, in a very long-winded way of adding context, here is what we envision for GrassLands' three phases, each of which will require increased capital:
Phase I:  Take care of Tallahassee and its neighboring communities within a relatively reasonable distance. Toward the close of Phase I, we envision gradually distributing kegs into selected major markets - transitioning us into Phase II.
Phase II: Take care of Florida. We'll do this by transcending the world of kegs and moving into canning as well. By the close of this decade, there should be numerous vendors out there specializing in canning for craft breweries and we'd be excited to accomplish two objectives with one step: increase our presence throughout the state of Florida and begin to fulfill the sustainability component of our mission. Cans are great in that they're cheaper, make less of an impact on the environment, and easier to recycle. Oh yeah, we'll most likely either have doubled our system capacity by this time - either that or we'll have a bunch of big ol' fermenters on our hands and brewing 'round the clock.
Phase III (to ∞ and beyond! :)): Take care of the Southeast. What's really in store for Phase III? Your guess is probably as good as mine. Optimistically, I'd like to see GrassLands do a number of things both by the onset of this phase as well as in the (hopefully many) years that follow. Is it realistic to think that we could begin to service the Southeast region of the US during this time? Everything that occurs in Phase II will dictate that as a possibility.
Whew! So there you have it. In our ever-increasing attempts to be as interactive as possible, we've gone all open-source on the anticipated growth segment of our business plan. Thoughts from the peanut gallery? Nothing is set in stone, of course, but we're always happy to hear from you guys & gals.
That'll about do it for this week. If you've read this far, and hopefully you have, I'd like to plug our brand-spanking-new Fermentation Fridays! newsletter where we keep the GrassLands family informed on where we are, week-to-week, regarding our progress towards launching. Are you connected with us? It's easy, just drop us a line and we'll make sure you stay up to date on all the latest GrassLands happenings! Have an absolutely awesome weekend, my dear readers, because you definitely deserve it!